BC 48–In the Battle of Pharsalus, Julius Caesar decisively defeats Pompey at Pharsalus, and Pompey flees to Egypt.

378–During the Gothic War, in the Battle of Adrianople, a large Roman army, led by Emperor Valens, is defeated by the Visigoths. Valens is killed along with over half of his army.

803–Irene of Athens dies at age 51. The year before, she had been exiled to Lesbos and forced to support herself by spinning wool.

833–Iraqi caliph, Al-Ma'mun, dies from eating poisoned dates in Raqqa, Abbasid Caliphate (present-day Raqqa Governorate, Syria).

1048–Pope Damasus II dies in Palestrina, Papal States, Holy Roman Empire. A native of Bavaria, he was the third German to become Pope and had one of the shortest papal reigns.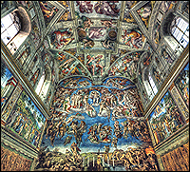 1173–Construction of the campanile of the Cathedral of Pisa (present-day Leaning Tower of Pisa) begins. It will take two centuries to complete.

1329–Quilon, the first Indian Christian Diocese, is erected by Pope John XXII and the French-born Jordanus is appointed the first Bishop.

1483–The opening of the Sistine Chapel in Rome, Italy, takes place.

1500–In the Ottoman-Venetian War, the Ottomans capture Methoni, Messenia.

1580–Metrophanes III of Constantinople dies in Constantinople, at age 59.

1601–Romanian Prince, Michael the Brave, dies in Turda, Romania, at age 42.

1610–The First Anglo-Powhatan War begins in colonial Virginia.

1631–Poet, playwright, and critic, John Dryden, is born in Aldwincle, Thrapston, Northamptonshire, England. He dominated the literary life of Restoration England to such a point that the period came to be known in literary circles as the Age of Dryden. He is best known for his works Absalom and Achitophel and Mac Flecknoe. He was made Poet Laureate in 1668.

1669–Eudoxia Lopukhina, the Russian wife of Peter the Great, is born Evdokiya Feodorovna Lopukhina in Moscow, Russia.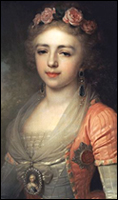 1696–Joseph Wenzel I, Prince of Liechtenstein, is born Josef Wenzel Lorenz in Prague, (present-day) Czech Republic.

1722–Augustus William, Prince of Prussia, is born in Stadtschloss, Berlin, Prussia.

1783–Grand Duchess Alexandra Pavlovna of Russia is born in Saint Petersburg, Russian Empire.

1810–Napoleon annexes Westphalia as part of the First French Empire.

1814–The Creek Indians sign the Treaty of Fort Jackson, giving up huge parts of Alabama and Georgia.

1842–The Webster-Ashburton Treaty is signed, establishing the United States/Canada border east of the Rocky Mountains.

1854–Henry David Thoreau publishes Walden, which describes his experiences while living near Walden Pond in Massachusetts.

1877–In the Battle of the Big Hole, a small band of Nez Percé Indians clash with the U.S. Army.

1892–Thomas Edison receives a patent for a two-way telegraph.

1898–Anesthetist-inventor, Gardner Quincy Colton, dies in Rotterdam, Netherlands. He pioneered the use of nitrous oxide in dentistry.

1902–Edward VII and Alexandra of Denmark are crowned King and Queen of the United Kingdom of Great Britain and Ireland.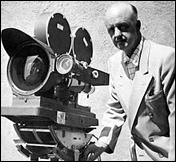 1906–Cinematographer, Robert L. Surtees, dies in Monterey, California, at age 78. His films include Oklahoma!, Ben-Hur, The Graduate, The Last Picture Show, The Sting, and A Star Is Born.

1907–The first Boy Scout encampment concludes at Brownsea Island in southern England.

1911–Nuclear-astro physicist, William A. Fowler, is born in Pittsburgh, Pennsylvania. Fowler's most famous paper was "Synthesis of the Elements in Stars," co-authored with E. Margaret Burbidge, Geoffrey Burbidge, and Fred Hoyle, and published in 1957.

1913–Harry (Flood) Mills, of The Mills Brothers, is born in Piqua, Ohio.

1914–The Battle of Mulhouse begins as part of a French attempt to recover the province of Alsace during the first French offensive of World War I.

1918–Film director and producer, Robert (Burgess) Aldrich, is born in Cranston, Rhode Island. His films include Story of G.I. Joe, Apache, Vera Cruz, The Big Knife, Autumn Leaves, The Garment Jungle, The Last Sunset, What Ever Happened to Baby Jane?, The Flight of the Phoenix, The Dirty Dozen, The Longesat Yard, and The Frisco Kid.

1925–A train robbery takes place in Kakori, near Lucknow, India.

1925–Computer scientist, David A. Huffman, is born in Ohio. He was a pioneer in computer science, known for his Huffman coding.

1927–Computer scientist, Marvin (Lee) Minsky, is born in New York, New York. He was a cognitive scientist concerned largely with the research of artificial intelligence (AI).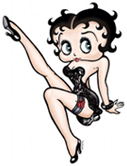 1927–Actor, Robert (Archibald) Shaw, is born in Westhoughton, Lancashire, England. He appeared in the films The Lavender Hill Mob, The Buccaneers, Libel, The Winter's Tale, The Valiant, The Caretaker, From Russia with Love, Hamlet, Battle of the Bulge, A Man for All Seasons, The Birthday Party, The Golden Voyage of Sinbad, The Sting, The Taking of Pelham One Two Three, Jaws, Robin and Marian, The Deep, and Force 10 from Navarone.

1930–The cartoon character, Betty Boop, makes her debut in Dizzy Dishes.

1931–Entrepreneur, Paula Kent Meehan, is born Paula Jane Baer in Beverly Hills, California. She co-founded the Redken hair care products company.

1936–At the XI Summer Olympic Games, Jesse Owens wins his fourth Gold medal.

1938–Politician, Leonid (Danylovych) Kuchma, is born in Chaikyne, Novhorod-Siverskyi Raion, Ukrainian SSR, Soviet Union. He was the second President of the Ukraine.

1939–Billy Henderson, of The Spinners, is born in Detroit, Michigan.

1940–Bobby Hatfield, of The Righteous Brothers, is born in Beaver Dam, Wisconsin. The duo had hits with You've Lost That Lovin' Feeling and Unchained Melody.

1941–Make-up artist, Way Bandy, is born Ronald Duane Wright in Birmingham, Alabama. During the 1970s, he became one of the most well known and highest paid make-up artists in the fashion industry.

1942–Indian leader, Mahatma Gandhi, is arrested by British forces in Bombay, India, launching the Quit India Movement.

1942–Jazz musician, Jack DeJohnette, is born in Chicago, Illinois. An important figure of the fusion era of jazz, DeJohnette is one of the most influential jazz drummers of the 20th century, given his extensive work as leader and sideman for musicians including Freddie Hubbard, Keith Jarrett, Bill Evans, Sonny Rollins, Miles Davis, Joe Henderson, and Herbie Hancock.



1942–Comedian, David Steinberg, is born in Winnipeg, Manitoba, Canada. At the height of his popularity during the late 1960s and early 1970s, he was one of the best-known comics in America. He appeared on The Tonight Show Starring Johnny Carson more than 130 times. He also appeared on The Smothers Brothers Comedy Hour, Music Scene, and starred in his own short-lived series, The David Steinberg Show.

1944–The U.S. Forest Service and the Wartime Advertising Council release posters featuring Smokey Bear for the first time.

1944–Grand Prix driver, Patrick Depailler, is born Patrick André Eugène Joseph Depailler in Clermont-Ferrand, France. He participated in 95 World Championship Formula One Grands Prix, debuting on July 2, 1972. He also participated in several non-Championship Formula One races. He won two races, secured one pole position, achieved 19 podiums, and scored a total of 141 championship points.

1944–Actor, Sam Elliott, is born Samuel Pack Elliott in Sacramento, California. He appeared in the films Butch Cassidy and the Sundance Kid, The Games, Lifeguard, The Shadow Riders, Mask, Gone to Texas, The Quick and the Dead, Roadhouse, Tombstone, Gettysburg, The Big Lebowski, Off the Map, Ghost Rider, and Did You Hear About the Morgans? He was married to actress, Katharine Ross.

1945–"Fat Man," a plutonium bomb carried by the US B-29 bomber, "Bockscar," is scheduled to be dropped on the Japanese city of Kokura. It was three days after the U.S. had dropped an atomic bomb on Hiroshima, Japan. The weather made visibility poor, so the aircraft passed Kokura and chose its secondary target, Nagasaki. "Fat Man" destroyed over half of Nagasaki and killed more than 70,000 people. This was the end of World War II. Japan surrendered unconditionally the following day.

1945–The Red Army invades Japanese-occupied Manchuria.

1947–Singer, Barbara Mason, is born in in Philadelphia, Pennsylvania. She had a big hit in the 1960s with Yes, I'm Ready.

1948–Fashion designer, Hugo Boss, dies of a tooth abcess in Metzingen, Germany, at age 63. He was the founder of the clothing company Hugo Boss. The company produced shirts and jackets, and then work clothing, sportswear, and raincoats. Since he was a member of the Nazi Party, in the 1930s, it produced uniforms for the SA, the SS, the Hitler Youth, the postal service, rail employees, and later, the Wehrmacht.



1956–Twenty thousand women stage a march on the Union Buildings in Pretoria, to protest against the proposed amendments to the Urban Areas Act in South Africa.

1957–Actress, Melanie (Richards) Griffith, is born in New York, New York. She appeared in the films The Harrad Experiment, Night Moves, The Drowning Pool, The Garden, One on One, Joyride, Body Double, Something Wild, Cherry 2000, The Milagro Beanfield War, Stormy Monday, Working Girl, Pacific Heights, Shining Through, Milk Money, Nobody's Fool, Now and Then, and Lolita. Her mother is actress, Tippi Hedren. She was married to actors, Don Johnson, Steven Bauer, and Antonio Banderas.

1958–Actress, Amanda Bearse, is born in Winter Park, Florida. She is best known for her role on the TV series Married... with Children. She appeared in the films Protocol, Fright Night, and The Doom Generation.

1959–Fashion designer, Michael Kors, is born Karl Anderson, Jr. in Long Island, New York. Kors is best known for his classic womens' sportswear designs. He has been a judge for several seasons on the Lifetime TV fashion competition series Project Runway.

1962–Novelist and poet, Hermann Hesse, dies in Montagnola, Ticino, Switzerland, at age 85. He is best remembered for his works Siddhartha and Steppenwolf. In 1946, he received the Nobel Prize in Literature.

1963–Singer, Whitney (Elizabeth) Houston, is born in Newark, New Jersey. In 2009, the Guinness World Records cited her as the most awarded female act of all time. Her hits include Saving All My Love for You, How Will I Know, I Wanna Dance with Somebody (Who Loves Me), I Will Always Love You, I'm Every Woman, and I Have Nothing. She appeared in the films The Bodyguard, Waiting to Exhale, and The Preacher's Wife. Her mother was singer, Cissy Houston, singer, her cousin is singer, Dionne Warwick, and background singer, Darlene Love, was her Godmother.

1963–Patrick Bouvier Kennedy, son of President John F. Kennedy, dies of infant respiratory distress syndrome (IRDS) in Boston, Massachusetts. He was born five-and-a-half weeks prematurely.

1965–Singapore is expelled from Malaysia, becoming the only country to gain independence unwillingly.

1965–A fire at a Titan missile base near Searcy, Arkansas, kills 53 construction workers.



1967–Controversial British playwright, Joe Orton, is murdered by Kenneth Halliwell in Islington, London, England, at age 34. He was killed by nine hammer blows to the head. Halliwell then committed suicide with an overdose of 22 Nembutal tablets washed down with the juice from canned grapefruit. The bodies were discovered the following morning, when a chauffeur arrived to take Orton to a meeting with director, Richard Lester, to discuss filming options on Up Against It. The book and film, Prick Up Your Ears, tells the story of the two men.

1969–Actress, Sharon Tate, is brutally murdered in a leased house in Benedict Canyon, California, at age 26. Four other people in the house are also found murdered: coffee heiress Abigail Folger, Polish actor Wojciech Frykowski, men's hairstylist Jay Sebring, and recent high-school graduate Steven Parent. Charles Manson and several members of his cult are later convicted of the horrendous crime.

1971–The British Army in Northern Ireland launches Operation Demetrius. Hundreds of people are arrested and interned, thousands are displaced, and 20 people are killed in the violence that follows.

1973–The U.S. Senate committee investigating the Watergate affair file a suit against President Richard Nixon.

1974–President Richard Nixon formally resigns from office. Vice President Gerald R. Ford takes his place, becoming the 38th President of the United States.

1975–Pianist and composer, Dmitri Shostakovich, dies of lung cancer at age 68. His music is characterized by sharp contrasts, elements of the grotesque, and ambivalent tonality. He is regarded as one of the major composers of the 20th century.

1979–Businessman, Walter O'Malley, dies congestive heart failure and cancer at the Mayo Clinic, Rochester, Minnesota, at age 75. He was a sports executive who owned the Brooklyn/Los Angeles Dodgers team in Major League Baseball from 1950 to 1979. In 1958, as owner of the Dodgers, he brought major league baseball to the West Coast, moving the Dodgers from Brooklyn, New York, to Los Angeles, California.



1979–Gang leader, Raymond Washington, dies from a gun shot wound to the abdomen in Los Angeles, California, at age 25. He founded the South Central Los Angeles street gang, the Crips.

1993–The Liberal Democratic Party of Japan loses a 38-year hold on national leadership.

1995–Musician, Jerry Garcia, co-founder of The Grateful Dead, dies of a heart attack at a residential drug treatment center in Forest Knolls, California, at age 53. On August 13th, a municipally sanctioned public memorial took place in the Polo Fields of San Francisco's Golden Gate Park, attended by approximately 25,000 people. On the morning of April 4, 1996, fellow band member, Bob Weir, and Deborah Koons (Garcia's widow), accompanied by Sanjay Mishra, spread half of Garcia's ashes into the Ganges River at the holy city of Rishikesh, India. Garcia is best known for his lead guitar work, singing, and songwriting with the band The Grateful Dead, which came to prominence during the counter-culture era in the 1960s.

1996–Engineer, Frank Whittle, dies of lung cancer at his home in Columbia, Maryland, at age 89. He was an English Royal Air Force (RAF) engineer air officer. He is credited with single-handedly inventing the turbojet engine.

1999–Russian President, Boris Yeltsin, fires his Prime Minister, Sergei Stepashin, and for the fourth time fires his entire cabinet.

2003–Actor-dancer, Gregory Hines, dies of liver cancer in Los Angeles, California, at age 57. He started out in a dance act with his older brother and father, called Hines, Hines, and Dad. He appeared in the films The Cotton Club, White Nights, Running Scared, Tap, A Rage in Harlem, and Waiting to Exhale.

2006–At least 21 suspected terrorists are arrested in the transatlantic aircraft plot that takes place in the United Kingdom. The arrests are made in London, Birmingham, and High Wycombe, England, in an overnight operation.



2009–Actor, John Quade, dies in Rosamond, California, at age 71. He appeared in the films Bad Company, High Plains Drifter, Papillon, The Sting, The Outlaw Josey Wales, Every Which Way But Loose, and La Bamba.

2014–Michael Brown, an unarmed 18-year-old African American male in Ferguson, Missouri, is shot and killed by a Ferguson police officer, sparking protests and unrest in the city.

2014–Actor, Ed Nelson, dies of heart failure in Greensboro, North Carolina, at age 85. He worked widely in both television and film. He is best known for the role of Michael Rossi in 484 episodes of the TV series Peyton Place. He appeared in the films Attack of the Crab Monsters, Invasion of the Saucer Men, Carnival Rock, The Brain Eaters, and Soldier in the Rain.

2015–Football player and sportscaster, Frank Gifford, dies of natural causes in Greenwich, Connecticut, at age 84. In November 2015, Gifford's family revealed that he had suffered from chronic traumatic encephalopathy (CTE) a type of severe brain trauma. After a 12-year playing career as a halfback and flanker for the New York Giants of the National Football League (NFL), he was a play-by-play announcer and commentator for 27 years on ABC's Monday Night Football.

2016–The out-of-control, Pilot Fire, hits 7,500 acres of bone-dry tinder and brush in the San Bernardino Mountains east of Los Angeles, California. More than 5,000 homes are under evacuation orders.


PHOTOS TOP TO BOTTOM: The Sistine Chapel; Grand Duchess Alexandra Pavlovna of Russia; Robert L. Surtees; Betty Boop; David Steinberg; Melanie Griffith; Joe Orton; Jerry Garcia; and John Quade.